The Designer
Hi, welcome to my design studio. I'm Shanna Blasingame; designer, graphic artist, computer and internet junkie with 25+ years of experience, working on many types of design projects. Communication with design is my business, and it requires a lot of different hats.
Whatever it takes to get the job done is what I'm currently doing or learning. Since I began as a graphic artist / production artist many years ago, things have changed drastically. In many ways, yet, still the same. Once a designer becomes completely familiar with a software program to the point of expertise, it is suddenly outdated and a new one comes along, so the constant learning never stops. Ever. And along came the internet, talk about constant changes.
Developing websites alone is a moving target now. But the basic principle of marketing has never changed. Reach your audience. (find them) Deliver the message. (communicate well) Get them to react. (call to action) Try to do it within your means.
I do have assistance with more complex computer programming, illustrations, and writing when it's called for, on bigger projects. Most of the websites, ads and other pieces are written by me personally.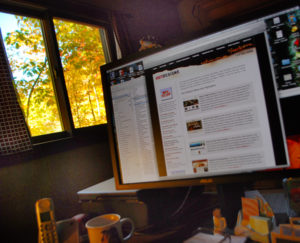 A-Typical Studio
Driving to work in traffic, paying to park my car and looking for spots, working in an office with central air controls, cubicles and community refrigerators was not for me. And  one year, during employment at a very large ad agency in Pittsburgh, I took a vacation to Alaska and it got me thinking. I'm an active outdoorsy nature loving, weekend hiking, dog loving person, and it felt like I was missing out on the really important things, for me anyway. The downtown work environment had its perks, but I needed windows. Outdoor access. Pittsburgh traffic and office environments just weren't me. I eventually moved outside of the city. Now with trees outside the window and dogs underfoot, I am free to create in the place where I feel creative.
Background
On the Job Training  Software was not taught to me in school. Everything was hands on, working at jobs where I was thrown a project, shown a computer with…  whatever software on it, and… go.  Photoshop, InDesign, Illustrator, Dreamweaver, Word, Quark, Acrobat, Excel … many. The ones I mentioned above that went away… FrameMaker, Pagemaker, Freehand, WordPerfect (ironic name for the most imperfect software ever), I worked on all of them. I've produced numerous projects, at first on PCs and MACs side by side (Oranges to Apples I always said) before they were even compatible, converting files back and forth. Also ran a machine that output films from files that were used for printing (before digital) and had to troubleshoot files (why they wouldn't rip) and it was very technical.
Education  I went to East Texas State University (now called Texas A&M Commerce after merge) majoring in fine art with an advertising minor, learning from adjunct professors:  illustrators, designers, art directors who were employed in Dallas agencies. They gave us a real life window into "how it will be in the real world" and didn't let us get away with anything. At all. We drew logos, get this – by hand with a pencil!  We learned the basics of design without help from a computer. A very fortunate thing as it turns out, to learn design principles with no desktop help. Rather than the other way around. After four years of art and advertising, I changed majors to business administration, a complete one-eighty. Why bring up education in the 1980s? Because I believe that is how I got to this place today, where I am able to work as a freelancer using a combination of left-right brain skills: art + computer + marketing + accounting + business.
I've had full and part time jobs in design studios and agencies, and freelanced in a variety of situations for many years, in-house and from a home office. Hot Designs was formed in 2003 from a home office.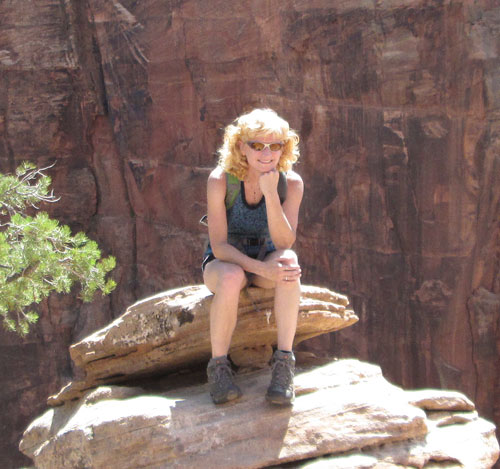 How my Background and Experience can help you
To develop a website, logo, or anything in marketing requires a broad level of understanding of every company I work with; learning the nuts and bolts about new businesses is necessary to the project. My business requires learning and relearning software, keeping up with the internet daily, just a constant "hand on the pulse" which is a moving target. How to reach the target audience in the quick paced changing world in which we live, changes constantly. The goal of delivering the right message with creativity and results has not changed.