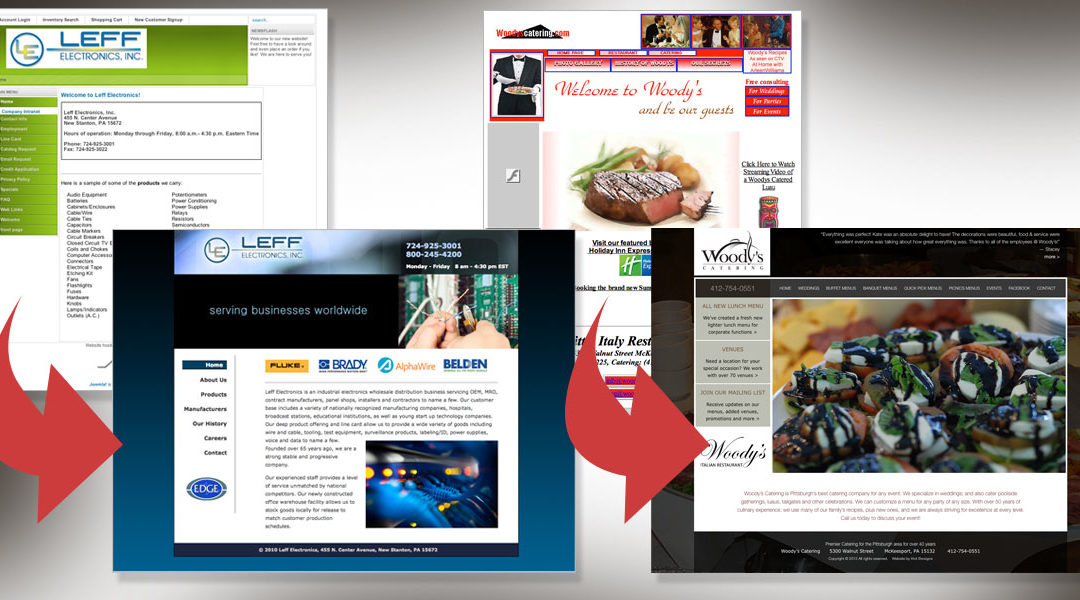 Clients coming to me about a website for the first time are in two categories, first one is they need all new everything, domain name, hosting, design, training, the whole shebang. No problem.
The second category is the one I want to talk about here, the folks who already have a website. There are many reasons why people with existing sites need help:  there are issues with it (design, colors, bad photos, broken links, broken plugins due to updating or not updating) or relationship with previous agency ended for whatever reason. These can be broken down into micro sections.
Hot Designs can pick up where your previous designer left off, patch up a few design or navigational issues, add social media plug-ins or other features, or start from scratch. Wherever you are in the proccess.
If you are hesitating about calling someone new because you've had less-than-fantastic experiences in the past, I have worked with every kind of imaginable pre-existing problem and resurrected websites to much satisfaction of my clients.
Whatever the case is, it won't cost anything to call with a quick rundown of your situation and get an honest projection of what it will take to fix, tweak, enhance, update or overhaul your site if it's already in existence. Contact me here or call 724-542-4400. Beyond just the structure and build, I look at everything design related also, from the navigation (which is part of the design itself), color palette and image, quality of the content, missed opportunities (i.e.: social media connection), and much more, depending on just how much you want me to dive into it.
Here is one sample of a website that was really not that extensive overall to fix, though the impact from navigational issues was very confusing and they really needed nice large photos of completed projects. For a relatively small amount of effort, this site was brought up to date in the backend. A photo gallery was created which can be easily expanded, and the site was completely combed and tweaked, so that the clients could take the next step in marketing.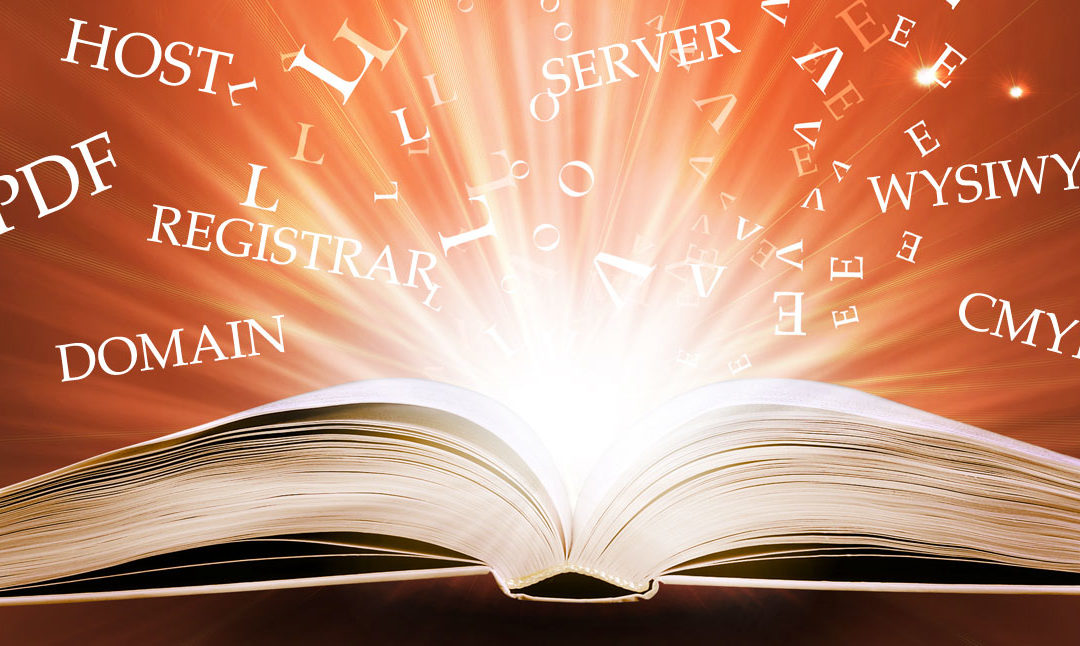 I've spent so much time trying to explain some of these terms to people. It caused me to want to start a glossary.
CMYK – Cyan, Magenta, Yellow, Black – These are the four basic colors used for printing. When mixed together, millions of colors are created in print. Also known as process color, full color, 4/4 (meaning four colors on each side) or four color printing. All files are made using some mix of colors. Some color system terms are: cmyk, rgb, pantone, pantone process, black and white or grayscale and duotone (two pantone colors). When you are sending a file to print, and the printer asks you to send a cmyk file, they are not asking for a .jpg or .tif or .eps. Different things. You can have a .jpg file that is broken down using either cmyk or rgb.
Files going to a four color press need to be saved as a cmyk. That's only the color breakdown. Then it will be saved as a .jpg, .pdf, .eps, .tif, or any number of formats. So if you have a .jpg, when you open it in Photoshop, you will see the color breakdown you'll see it was made of cmyk.
RGB – Red, Green, Blue – These are the colors used for files on screens and monitors. Think of your tv set with the three color tubes, one is red, one is green, one is blue. Those three colors mix to create all other colors you see on your screen. For websites, emails, anything that appears on a monitor, rgb is required. Then the file will be saved as a format, either .jpg, .gif, .png or some format used on monitors. Confusing enough? Well here's another twist;  desktop printers such as the one you have, the copy center near you, or large chain copy centers, do not necessarily require a file to be saved in cmyk. Desktop printers have four cartridges that are cmyk. However they print rgb files very well and sometimes even better than cmyk.
PDF – Portable document format – A format that allows users to view a document in Acrobat Reader. Maybe the most confusing thing people ask me about. Here's why:  You can save as a PDF from almost any application.  You can save as .pdf from: Photoshop, Illustrator, InDesign, Microsoft Word, Excel, your browser etc. the list goes on forever. Each pdf can be opened in Acrobat Reader. Everyone knows about Reader, it's the free version you can easily download, allowing you to open a .pdf, no matter what application you created it from. You don't need the original application from which it was created such as Photoshop. You cannot edit the document in Acrobat Reader, but you can edit some things in the full version of Acrobat which is a paid version.
If a .pdf is saved from Illustrator, it can be opened in Illustrator with all original layers, vector art and can be edited completely. Again, so confusing for people to understand. When I need a logo for a billboard, it will be printed large. I'm looking for something that was done in Illustrator because it can be enlarged 1000% without pixelating, because there are no pixels. The file may be an .eps, .ai (Adobe Illustrator), or .pdf.
Vector Format – Vector files are made of line drawing programs such as Illustrator, Correl Draw and Freehand (from the past). This means that the files are not made up of dots or pixels, as in dots per inch. What makes them special, is that you can create a logo or billboard in one of these programs, very small. But when you print them out very large, the text and anything you drew within the program will be as crisp and clean at actual size or blown up very large. If you place a photo into Illustrator, the photo will be whatever resolution it was saved as from Photoshop or from the camera, etc. That photo WILL pixelate when blown up larger. But the text never will.
Registrar – If you think of what the term registrar means:  "an official responsible for keeping a register or official records" it will help you understand domain names. A Domain Name Registrar is a company that has been licensed by the Internet Corporation for Assigned Names and Numbers (ICANN) or the local domain name authority in their country to sell domain names.
WYSIWYG – (pronounced "wissy wig") – What you see is what you get. Meaning: when you are working on a document, you are working without code, basically seeing the end result as you are working on it. You often hear Drag and Drop which is kind of the same thing.

Welcome to my very first blog. As I run across information that is useful to clients, usually after answering the same question many times, I will post articles here on my blog about them. Technology is rapidly changing and it can be hard to follow.
About the title of this blog. Well when I first started to freelance, there was no internet. (insert dinosaur jokes here) Certain things were a little harder. And more expensive. And took longer. Later as the internet was still in its childhood stages, I was still working mostly on printed pieces, logos and so forth, and occasionally a "banner ad" for those just trying to get a presence on someone else's website. No one really had their own. Getting a physical draft of work to the client took as much effort as doing the work itself. It was tedious and expensive, requiring a larger format printer with costly ink, 11×17 paper, spray mount, xacto knives, sometimes bristol board, large envelopes and a FedEx account (or equivalent). That's right, we had to print those things out, put them in the package, go to a drop off location and wait for it to get there, before calling the client for the feedback. Or we took half the day driving to the client and presenting the thing in person.
Then as emails and the internet became more prevalent, more and more people got themselves an email address. Sure it was with the bug-filled AOL (not LOL which comes from a newly invented language) but it was still convenient for some things. The invention of email is in my view, the NUMBER 1 most important tool for someone being able to work from home instead of driving back and forth to work or to clients' offices. You could send a jpg to someone, but even then, if they didn't have the software what good was it. Emails alone were only part of the solution.
But when you added the next most important tool ever created, NUMBER 2, the simple yet powerful PDF (portable document format), now you had what you needed to stay at home, save time, gas and all of that physical mocking up of brochures and running around! (hear angels singing  – and I can't begin to say how fantastic it is now, to work live on websites, tell a client to refresh while you have them on the phone, and the work is instantly done. That is a whole different subject.)
That's right, if it weren't for emails and that brilliant piece of software, the PDF, we'd all still be lugging our behinds and projects to the drop off locations, or for those of us still working at agencies … chasing the drivers out the door with our freshly sprayed boards as they try to leave on schedule, but now have to wait for us to finish stuffing our product into the envelopes. (I've seen some really mad drivers)
And further back … so I'm really aging myself here, but when I went to college and majored in advertising and fine art, let's just say we had things like pantone paper sheets, press type, protractors and dividers. No clouds, servers or hosting plans. The tools of our trade were real, tangible things you carted back and forth to class with you. We carried them in fishing tackle boxes and portfolio cases.
In conclusion, everything has changed. I'll try and help you keep up with it, give you some tips and tricks, share my knowledge, and give thanks to NUMBER 1 and NUMBER 2 often!  I'm still talking about Emails and PDFs.