The Designer
Hi, welcome to my design studio. I'm Shanna Blasingame; designer, graphic artist, computer and internet junkie with about 22 years of hands-on experience, working on many types of design projects. Communication is my business, and that requires a lot of different hats. Put them on all together and you have a kind of one-stop shop here at Hot Designs.
Whatever it takes to get the job done is what I'm currently doing or learning. In recent years I've taken tons of photography for the projects I work on, and my own personal stock photography collection grows by the day. Developing websites is an on-going learning curve as numerous devices, browsers, software, languages and so much more come and go, stay and fade away. Social media and internet marketing took over everything quickly, and I'm keeping up with it. The basic principle of marketing has never changed, to reach an audience and deliver the intended message.
There are a few folks who have helped me over the years with more complex computer programming, photography, illustrations, and writing. When parts of the project aren't within my personal scope or there's a work overload, I team up with the right people.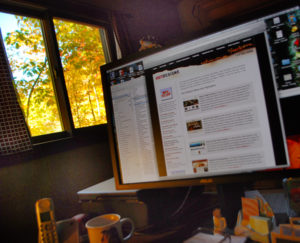 A-Typical Studio
Driving to work in traffic, paying to park my car and looking for spots, working in an office with central air controls, cubicles and community refrigerators was not for me. And  one year, during employment at a very large ad agency in Pittsburgh, I took a vacation to Alaska and it got me thinking. I'm an active outdoorsy nature loving, weekend hiking, dog loving person, and it felt like I was missing out on the really important things, for me anyway. The downtown work environment was cool, but it literally felt as though every second spent inside on a nice day was a waste of a precious minute. I worked at one place that didn't even have a single window and it was torture for my spirit. Pittsburgh city life, traffic, and office environment just weren't working for me. I eventually moved outside of the city. With trees outside the window and dogs underfoot, I get my best work done.
Background
I've been teaching myself computer software since my first job, working in Photoshop, InDesign, Illustrator, Dreamweaver, Word, Quark, Acrobat, Excel … many many … these are just a few. Some you've never heard of because they've gone to the dumpster. (FrameMaker, Pagemaker, Freehand, WordPerfect – an ironic name for the most imperfect piece of software ever). I've worked on PCs and MACs side by side – like Oranges to Apples – before they were compatible, converting files back and forth. Just saying, I've done a lot.
My college education was incredible, at East Texas State University.* I majored in fine art with an advertising minor, learning directly from adjunct professionals in Dallas agencies who just kicked our behinds. They didn't give us false promises for our future, they did their best to weed us out! They said mean things about our work when it was bad, threw it on the floor and stomped on it, embarrassed us when they saw a lack of trying, because "that's how it will be in the real world." They did dance and praise us, but only when we actually did something really great. We drew logos, get this – by hand with a pencil!!  We had to learn the basics of design without any help from a computer. A very fortunate thing as it turns out. After four years of that, I changed majors (to get out quicker) to business administration … economics, accounting, calculus, marketing, communications, entrepreneurship, writing computer code in C+ … a complete one-eighty from the art life. This is accidentally how I got the full gamut of left-right brain training, and still have no idea how I passed statistics.
I've had several full and part time jobs in design studios and agencies, and freelanced in a variety of situations for many years, in-house and from home. The combination of a good understanding of marketing, psychology (this is so important at so many stages of design and communication), computers, budgets, accounting, and proper English makes for a pretty good combination for a variety of businesses.
*East Texas State University is now called Texas A&M Commerce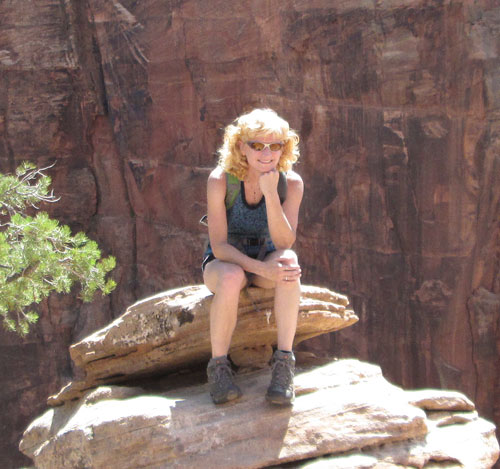 How my Background and Experience can help you
To develop a website, logo, or any piece of marketing along the way requires a broad level of understanding of each and every company I work with. Besides constantly learning the nuts and bolts about new businesses, I'm learning and relearning software, what's new on the internet, WordPress as of late, and how to reach the target audience in the quick paced changing world in which we live. I thrive on learning about all types of businesses, and could quite possibly be the answer for yours.