It's all so complicated! Where do I start?
This is called Websites 101 because I'm truly starting at the beginning.
1 Domain Name

The very first step is to purchase a domain name through a registrar, such as GoDaddy or Network Solutions. There are MANY companies who are accredited through ICANN, the organization basically responsible for overseeing the internet.
My advise is to buy the name yourself in your name, or get help having someone do that for you, in your name. There are marketing, advertising and design companies who will make the purchase for you through one of these registrars as part of their services. Sometimes they formally register everything under their company, not yours, but please read the tip regarding this.
Cost:  Domain names are $13-15 per year average to keep registered, currently on the rise

HOT TIP
Buy your own domain and register it in your name!  If someone helps you and registers it with their contact information and not yours, you could run into problems later.
How to find out if a domain name is available, and purchase it
1) You can just simply type the domain name you want into your browser. If you get a message like: ADDRESS NOT FOUND or CAN'T FIND THE SERVER, it's available.  Or..
2) Go to a registrar's website and use their domain search feature. They will give you the option to buy if it's available, or if it's not, they'll offer other suggestions. (Kind of a cool tool if your name is taken, and very likely it is as the internet matures.) If the name is available, GRAB IT!  It's not expensive and if you decide to change names you've invested very little. Especially if it's something kind of common, or unique to your business and you don't want to lose it. I've used GoDaddy.com for most of my new domain purchases, since they offer quick and easy customer support, no issues with the backend, and no monkey business with my names.
KEEP ALL PASSWORDS and logins, etc. for going forward. It will get more complex as you go through the next steps, and there are multiple things to keep track of, so make it easy on yourself and the web developer by keeping good records.
2 Hosting
Hosting is the service that provides the physical server where your files are located. This is billed monthly or yearly, and is separate from the domain name ownership. The company that hosts your account can also be the same company where your name is registered, or not, It really doesn't matter in the long run, though I tend to like keeping the two companies separate. Hosting companies such as GoDaddy, Bluehost, Hostgator, Network Solutions, are large and well known, but there are many, many. The hosting services vary with each company. Basically if you stick with a large one you'll be okay.
Most important thing to look out for in my opinion? 24/7 phone support.  Your website files will exist on their server, and any emails with your domain name (i.e.:  myname@hotdesigns1.com)  will be on their servers also.  You never want any down time with your site or issues with your emails. If something does happen, you need immediate assistance. Can you imagine things going wrong with your website or email and the only way to contact someone is via email? Or chat ticket? Avoid the problem and look for phone support.
Average: $100 and up per year (this is a very rough guess, there are thousands of plans)
---
3 Site Development
Since the invention of WordPress and all of the many many website builders out there with free pre-built templates, you can build your site yourself if you are pretty computer savvy.
But that still has limitations for inexperienced designers, and in a sea, or ocean of options, how do you know what to choose? And what really makes a site great is the customization, photography and graphics, a keen eye for design with the ability to size graphics properly, etc. Once you do it yourself, the next question you will have is:  Why am I not showing up on the internet?
Hot Designs offers complete website design and development services starting around $1200. Very super simple sites can be started for less, using a pre-made template to get started with a nice design, within template options, and no SEO. See my rate chart here >
If you need help with everything, including finding the best domain name for your business, registering it (under your name) and setting up your hosting (under your own account), I can easily do it for you and make that part painless and easy. You'll receive a compiled list of all of your critical information; logins, customer numbers, passwords, etc. so you'll have full access to your own accounts, and to keep for your records. In fact it's preferred that I set it up for you when possible, due to the shear amount of different logins and passwords you will end up with and technical steps along the way to go from new domain to final website. There are a minimum of four different combinations of them which apply to different parts of the site.
Content Management System (CMS)
If you plan to maintain your own site, a CMS (Content Management System) like WordPress, Drupal or Joomla is needed. This means you can make your own updates by logging in on the internet. Even if not, these are all the way of the future. WordPress is the most widely used platform, and the easiest to understand, and it's very quick to make changes to the site once it's up and running. These plus others are all free to download with any hosting plan, and there are new ones coming out all of the time. There are thousands of templates available out there for WordPress, plus plugins which are the parts of the site that customize it and add all of the features such as contact forms, slideshows, social media share buttons and the list goes on. Some are free, some are premium. WordPress requires installation of a template, which runs on the server with your design, and your content. Some are bare and you have to add everything. Other premium templates have a lot of plugins already in them. Even then you may end up adding more plugins to get all of the features you want.
A completely custom CMS can be developed just for you, but that's the most expensive way to go. There's really no need for this with few exceptions.
Even though WordPress is the easiest to use, the entire process can still be daunting. Design assistance will still likely be needed to customize it just the way you want it, and make it look professional. It's a task just to go through the many templates, to understand which ones are better than others, how and when to update them, and what to do when you update one thing and it messes up something else.
Updates to themes and plug-ins, as well as the core of WordPress happen quite frequently, and they have to all work together as they move forward in time. This is due to changes on the internet or devices, discovered bugs, issues, and security breaches. When you update your template, sometimes plugins conflict and the site breaks so you have to know what you're doing or your site could suddenly not work. It's usually not fatal, but would you know what steps to take next?
4 SEO – Search Engine Optimization
Now that the site is up and running, how do people find you on the internet? Search engine optimization is a super loaded term. Managing SEO can be weekly, monthly, quarterly, bi-annually or anually, depending on your expectations of ranking on Google and other search engines. During the design phase, some very minimal SEO functions are automatically covered. (proper page and image naming)
Large companies spend tens of thousands of dollars to be rank high on search engines. They may purchase ad words or buy pay-per-click advertising. These are the first results on Google's page when you do a search: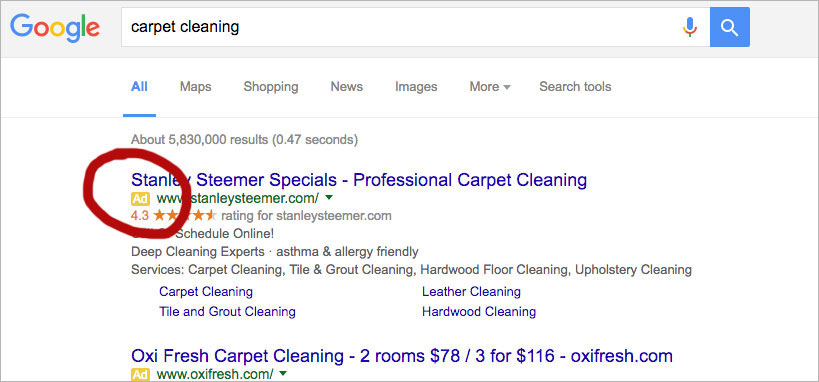 The changing algorithms Google uses alone will keep you busy full time if you are serious about turning internet visits into sales. There are organic things you can do to help your site reach priority on search engines, however even that takes a lot of time to learn, understand and implement.

HOT TIP
Content updates. Website content should not sit stagnant for long periods of time, particularly the home page. Google likes to see changing content, relevant to today, not something that hasn't changed for five years, they know that's not what searchers are after.
The ability to rank on the internet requires attention, time and money. If your expectations are extremely high, your costs will be too. There are no quick, cheap, and especially, no true free ways to rank on the internet. To implement the organic (free) things to do to your own website will require the knowledge, and the time it takes to beef up the content, tags, share plugins, etc., all things that help with search engine rankings.
Read No Quick Fixes here  An oldie but still a good explanation today
Do this test: Go to http://google.com and type in your keywords or phrases. (I typed in "pizza" below) Notice the results; it says 582,000,000 results. This is how many websites you are competing with for the word "pizza." This is your reality check.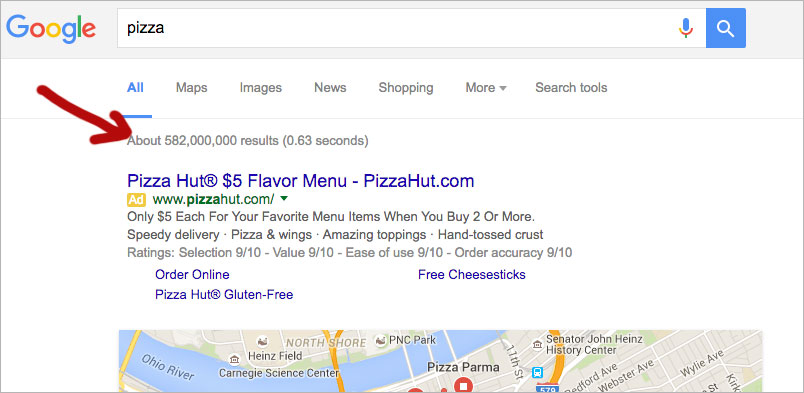 HOT TIP
Get on the map. That's the Google map. If you haven't noticed, Google itself puts the most importance on their own maps first on their page, right after the paid advertisers. If your keyword is really broad (like "restaurant")  there may not be any ads, it's too general. So the first results will be what is closest to you. Of course, other browsers like Bing use different algorithms, but I'm only talking about Google in this article.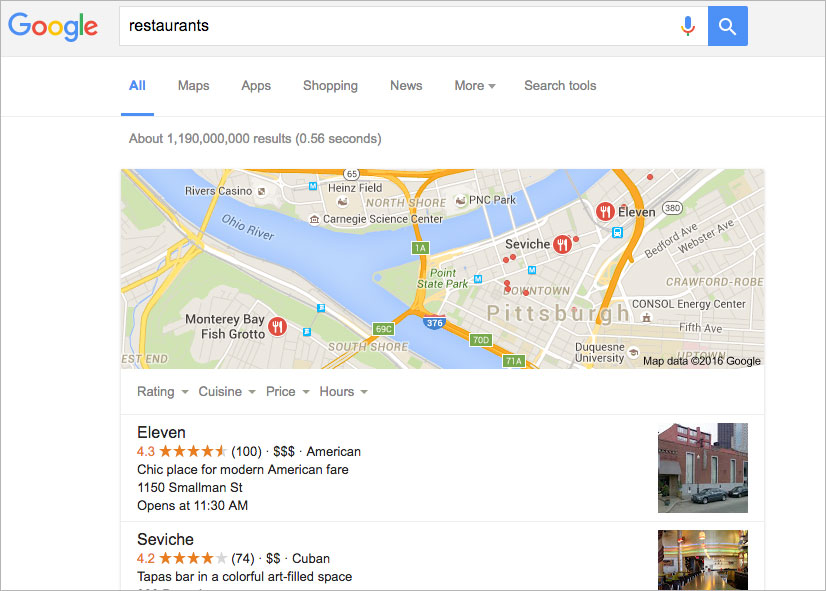 If you need help, I'm here with answers.
Call
724-542-4400
If you have ever said "I know enough to be dangerous," you probably are.